Audi R8 V10 @ Pavilion
Last Thursday, after finished farewell lunch for JinWah @ Wong Kok Pavilion, while we were walking to basement parking, i saw this awesome Audi R8 V10 location at the main entrance of Pavilion...
I have my camera on my hand, so i quickly shoot some photos of it before my colleagues leave...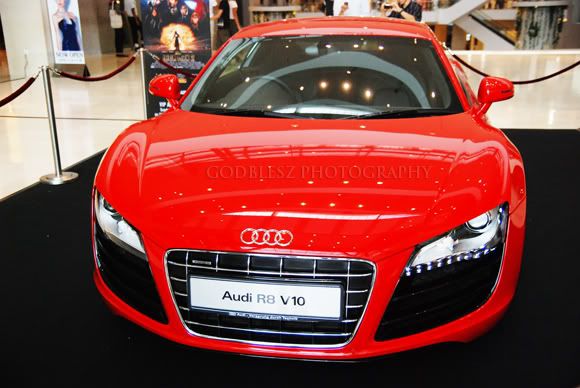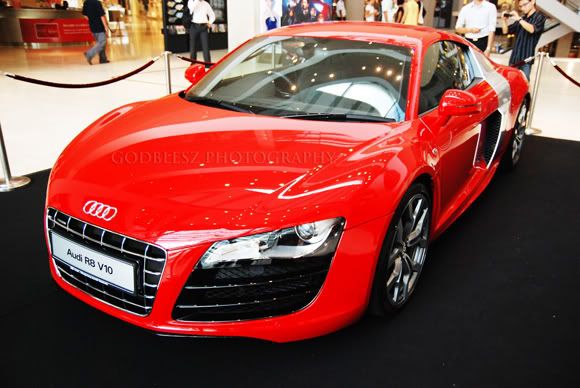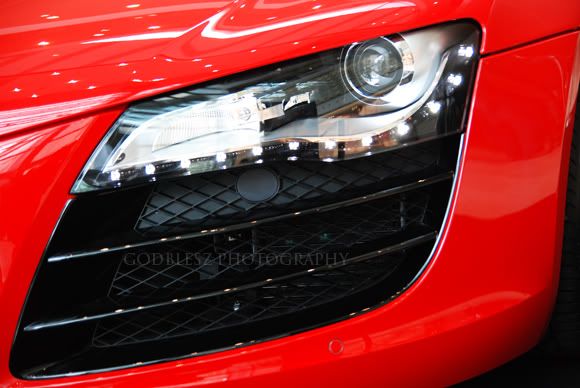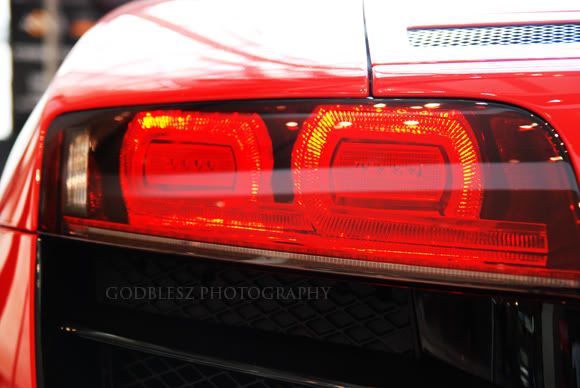 2010 Audi R8 V10 5.2 FSI quattro Specifications (From http://www.rsportscars.com/audi/2010-audi-r8-v10-52-fsi-quattro/)
Body
Wheelbase
2652 mm
Chassis
Wheels
10-Spoke Y Design by Audi Exclusive to R8 V10
Tires Front
235/35 R19
Tires Rear
295/30 R19
Drivetrain
Layout
Mid-Engine, quattro AWD
Transmission
6 Speed Manual or 6 Speed Audi R-Tronic DSG
Differential
Full Electronically-Controlled LSD
Engine
Type:
Mid-Mounted 90 degree FSI V10
Compression Ratio
12.5:1
Engine & Transmission
Displacement cu in (cc):
5.2 liters
Power bhp (kW) at RPM:
386 kW (525 hp) @ 8000 rpm
Torque lb-ft (Nm) at RPM:
530 Nm (390.91 lb-ft) @ 6500 rpm
Redline at RPM:
8700 rpm
Exterior
Body Type
2 Door, 2 Seat Supercar
Length
4435 mm
Width
1930 mm
Height
1252 mm
Curb Weight
3571 lbs.
Performance
Acceleration (0-100 km/h)
3.9 seconds
Fuel Economy EPA city/highway mpg (l/100 km):
17 combined mpg EU method
Top Speed
316 km/h (196.35 mph)
News from
themalaysiainsider.com
:


Audi unveils V10 car at new flagship KL store
KUALA LUMPUR, March 18 — Euromobile unveiled the 10-cylinder Audi R8 V10 sports car for the first time in Malaysia at the opening of its new flagship store here today.
The car is is equipped with the 10-cylinder V90 engine, features the all-aluminium Audi Space Frame construction and is capable of going from 0 to 62mph in 3.9 seconds.
The 5,000 parts that make up the car are also assembled by hand and will cost between RM1.2 million and RM1.4 million.
Euromobile is the sole distributor of Audi automobiles in Malaysia.
"The debut of both the Audi R8 and the A5 will undoubtedly alter the landscape of luxury lifestyle automobiles in Malaysia," said Euromobile chairman Datuk Seri Mohd Kamil Jamil at the opening of the flagship store.
He said that Euromobile expects to sell some 700 Audi cars this year after sales doubled last year from 215 units in 2008 to 435 units in 2009.
He added that Audi wants to be the top global luxury car manufacturer by 2015 and that Audi is the fastest growing luxury brand in Malaysia.
The KL flagship store is in the international Bukit Bintang district of Kuala Lumpur and incorporates spatial elements consistent with Audi's identity.
The store opening was officiated by Prime Minister Datuk Seri Najib Razak.
"The opening reflects the private sector's optimism about Malaysia's economic recovery and economic prospects," said Najib.
Euromobile will also open a new after-sales service centre in Chan Sow Lin in KL and Queensbay Mall in Penang this year.
Euromobile is a wholly-owned subsidiary of Edaran Otomobil Nasional, part of the DRB-HICOM Group.