Cameron Highlands - Part 1
Hohoho...I went to Cameron Highlands last 2 weeks with YuetLeng, SiewWeng, PeiChin, WengChye and PuiLim...KokKay, HueyLi and 2 of their friends...
I had suggested this trip for about 2 months already, after so many troubles and problems, finally our 2 days 1 night trip to Cameron Highlands was so so so nice, happy, wonderful, fantastic, exciting, fun, syok.....lol
YuetLeng had special meeting on Saturday, WengChye had something to configure for his mobile and laptop before we depart to Cameron...Then we gathered at Genting Klang Bobo Restaurant to have lunch, after that we shoot to Cameron Highlands...Was quite late already, 3pm something if not mistaken....Then we decided to go up by using Simpang Pulai new road although little bit far, because i worried YuetLeng cannot tahan the old road sharp corners...hehehe.....
We reached Brinchang at 7pm++ , the first thing to do was collect the Desa Anthurium Apartment key from Mrs. Tang, then we went to pasar malam directly, to buy those fresh vegetables for our dinner - yummy yummy steamboat...
The girls went to sapu vegetables first, i wanted to try the famous ice cream...So me and WengChye walked to look for the ice cream...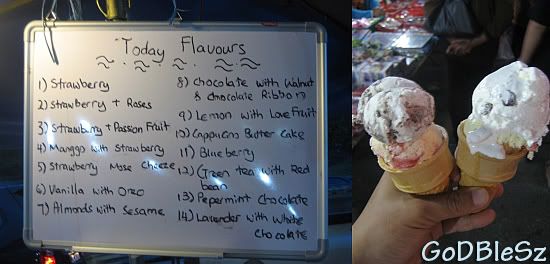 Yiiiihar...Yummy ice cream....I like it...One for YuetLeng and another for mysel...hehehe....Maggo with Strawberry, Lemon with Love Fruit, Rum Raisin and don't know what already :p

Then we walked back to look for the girls gang...They were buying vegetables for our dinner...Hehee....13 packets for RM10....Eat vege kaw-kaw at Cameron :D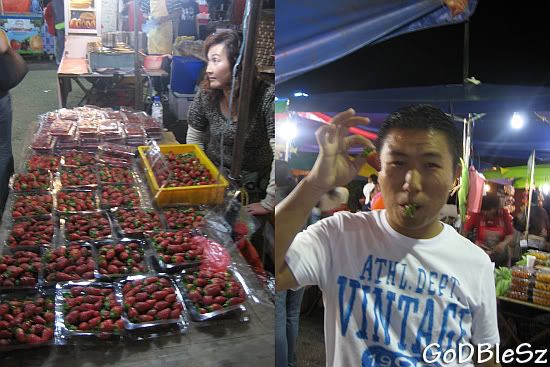 Strawberry!!!OMG i like to eat fresh strawberry....Fresh and cheap....Sapu many many to eat lah...Aunty said "buy more free more, want money don't want strawberry"....lol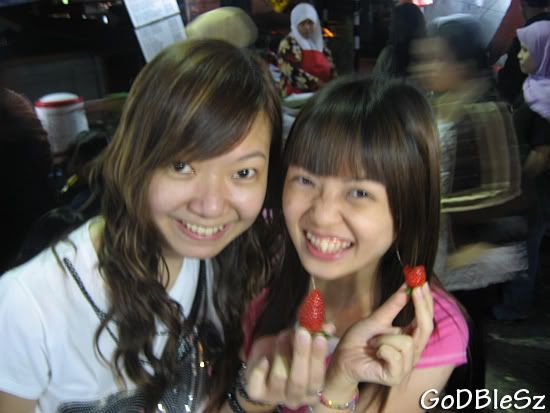 See...Aunty free strawberry to YuetLeng and PuiLim....They looked so happy...Ahahaha....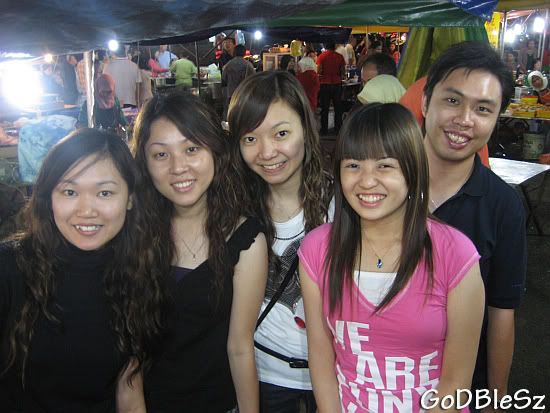 (L-R) PeiChin, SiewWeng, PuiLim, YuetLeng & WengChye....Me leh?Cameraman luu :(
After sapu so many food for steamboat, we went to look for our place to stay at Tanah Rata, was very near to Brinchang....Oh...We went to mini market to buy some crabsticks and meat balls for steamboat too...Hehe....Because KokKay wanted to eat meat....
Desa Anthurium, RM250/= per night, 3 bedrooms and got Astro somemore......hehehe....
KokKay and his friends just reached pasar malam when we reached apartment...They went to walked walked at pasar malam first...So, 6 of us cleaned those vegetables and meat balls together, after that i start preparing the tomyam soup for our steamboat...

Yeah....Vege vege and vege.....So healthy....lol
Hahaa....KokKay them reached already...Can eat directly....Timing ngam ngam....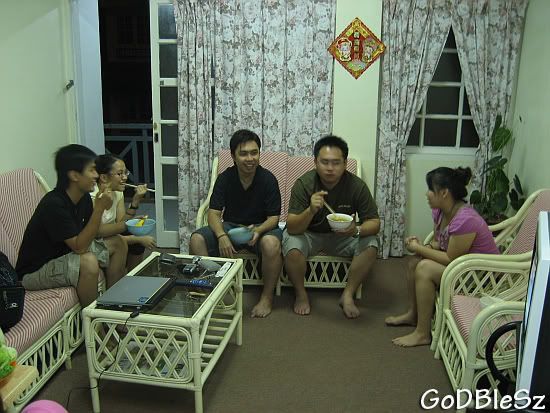 Eat, chat and watch Astro....Cool air from outside.....So relax.....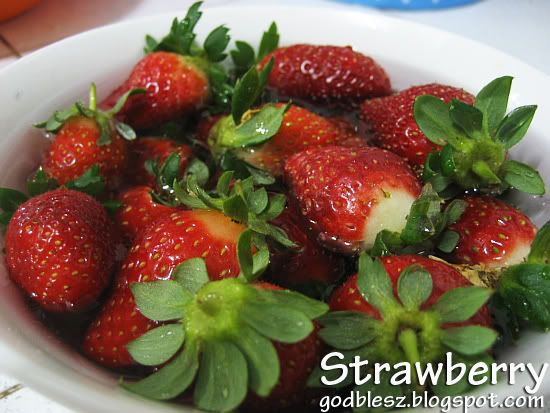 After steamboat, strawberry time.....So fresh....So delicious....2 thumbs UP!!!
Then, time to play mahjong....I said play arr...Not gambling arr....lol....but i didn't join....I went to sleep because my eye was so tired already :P