Cameron Highlands - Part 3
Finished our breakfast, we wanted to go to the famous Sg Palas Boh Tea Centre, but we had no idea where was it located....So asked the waitress luu...She said downhill and uphill also got Boh Tea Centre, she also said downhill one more nice...
Then we followed what she said luu....We drove all the way downhill to Tanah Rata then pass some tea centre...Still unable to see it...Then continued to go down luu...Until we saw the "Boh Tea" signboard...Wah happy lah...
Follow the signboard to look for the tea centre...We need to drive for about 10-15 minutes on a narrow road to reach there...We parked our cars and walked around...Yiii, seem like kena tipu already -_-"
Haha...Not this one lah...But nevermind...This one nice also...So we walked around to take photos...
Next...Next...Next....Hahaa....Everyone queue to take photo...
Then we climbed up to the hill...Tea hill....To see what they have on the hill...
Nice view to take photos on the hill....And also this...Huge tree???I think it is a communication tower...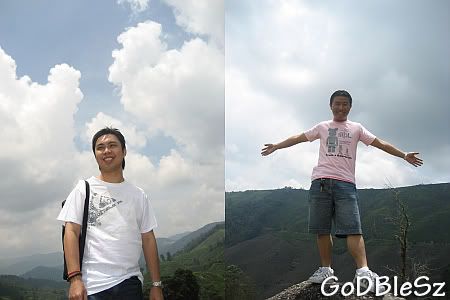 Wah....Blue sky blue sky....I love it....Pose pose pose faster....
YuetLeng and PuiLim....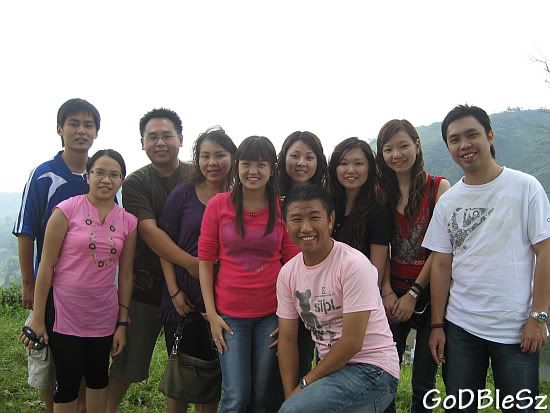 Then we took a group photo...Cannot see the background wor...
Nevermind, another group photo....Hahaha.....
Kokkay said he wanna go back to Kuala Lumpur already because his friends had to reach home before 7pm...We wanted to explore and look for the Sg Palas Boh Tea Center...So he asked me to take more nice photos for him to see, lol....They had tea and relaxed at the tea centre before they leave Cameron Highlands....And we continued our exploration...
We went uphill again....Then we stopped at the
Smoke House
...To take some photos...Hehhee...
This English Tudor style Hotel built in 1939 provides you with the ultimate in colonial ambience...RM400++ to RM680++ per night -_-"
Continued our journey....Then we stopped at another famous place...Raaju Strawberry Farm...To have delicious ice cream....
The "special strawberry ice cream"...RM6 per cup....Fuhyoh!!!Super yummy!!!
Go and try it now...lol
WengChye called to ask his brother for the Sg. Palas Boh Tea Centre location...So we roughly knew where is the place already....After enjoying the super delicious + yummy ice cream...The exploration continues at next post :D