Euro Deli Grill @ Jalan Yap Kwan Seng
Last 2 days i went to Euro Deli which is located at Jalan Yap Kwan Seng with YuetLeng to celebrate my birthday, thank you YuetLeng =)

Some intro of Euro Deli
-
"Euro Deli began its gourmet journey in 1991, and has since been established as a leading non-halal meat processing and sausage manufacturing company in Malaysia.
Its signature Swiss-German specialities are imported and also freshly produced in the local factory and consist of over 100 varieties of mouthwatering sausages and ham."
We went there after working and reached there at around 8pm. If you come from Jalan Tun Razak or Semarak area towards KLCC, it is located at your left hand side, turn left into the small junction right after the Old Town/Restaurant Rasa Sayang and you can see the resraurant, they have their own parking too.
The menu...They serve roast pork knuckle, variety of sausages, pasta and so on...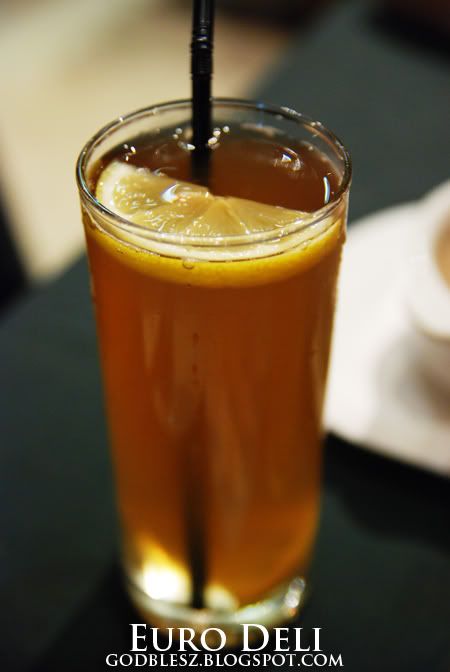 My Ice Lemon Tea...Hehe...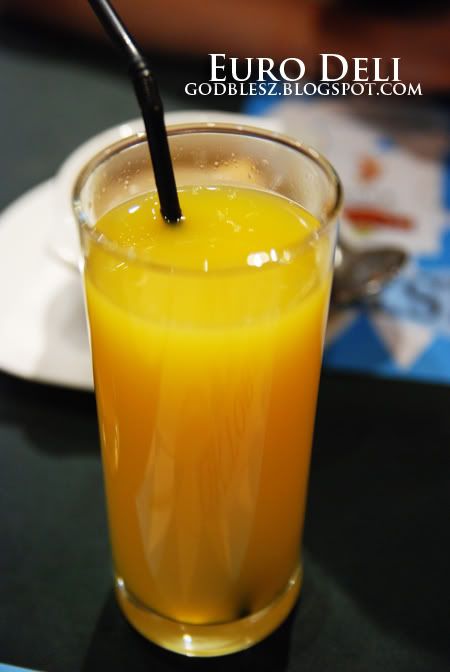 And YuetLeng's orange juice...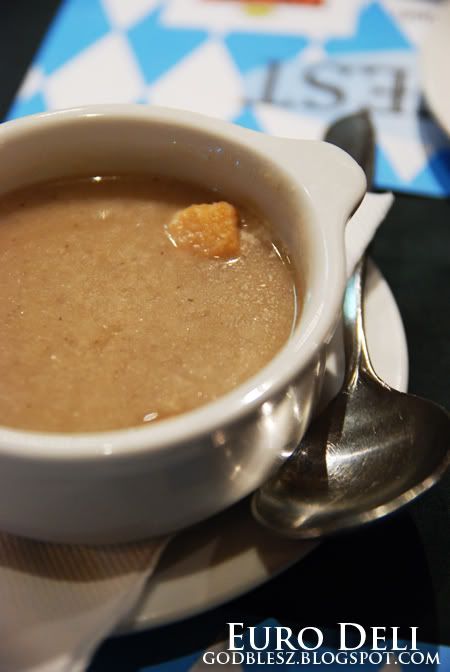 Then we ordered a Mushroom soup...The taste was quite nice...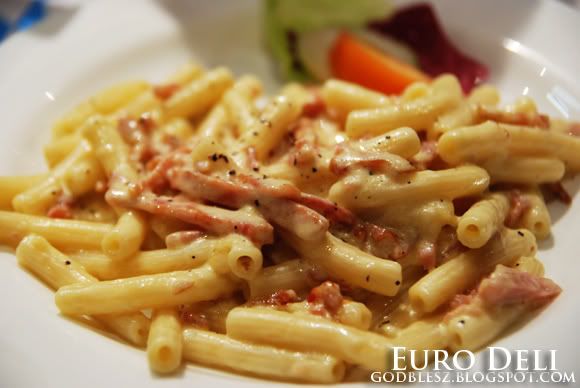 YuetLeng ordered this - "Aelpler Macaroni(Mountain Macaroni) with Bacon, Ham, Cream Cheese Sauce and Apple Mousse"...Cheese cheese i like~~~!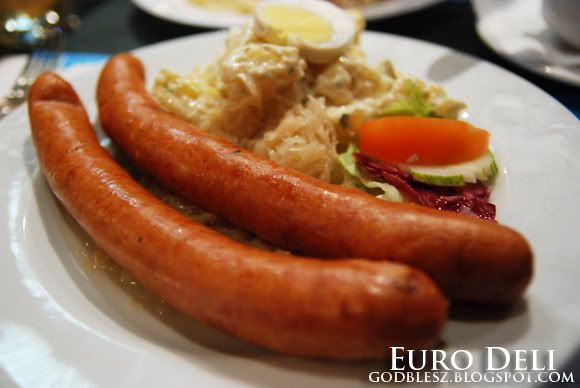 I orderes this, one of their all time favourites - "Emmenthaler Wurst(Emmenthaler Sausage) Pork Sausage with Cheese, Potato Salad & Sauerkraut"...The taste was a little bit salty but still acceptable for me, most importantly it has cheese, yeah!Oh the "sauerkraut" is actually a sour vegetables...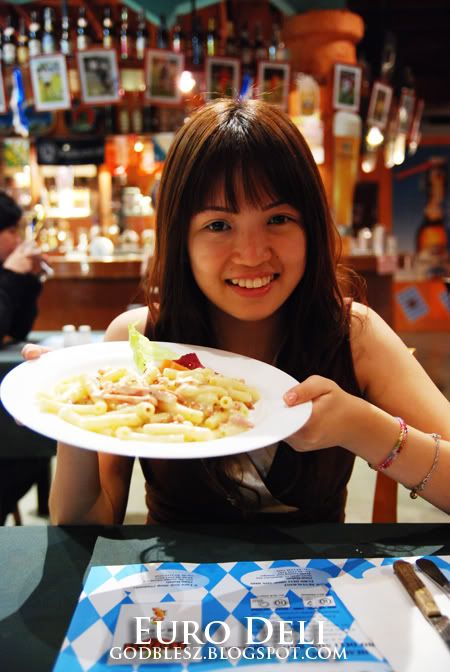 YuetLeng was posing with her macaroni...
And me posing with my sausages lol...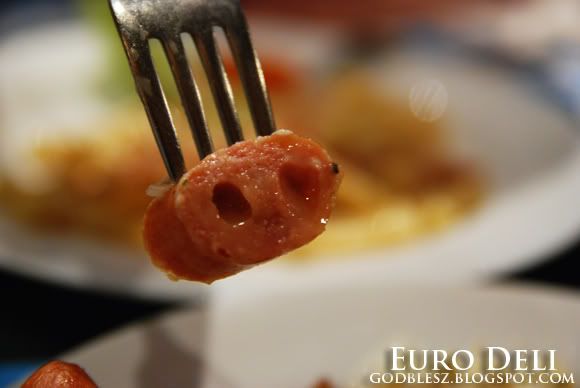 While i was eating halfway, we saw this...Haha, look like pig's nose right? =P
Some random shots of the restaurant...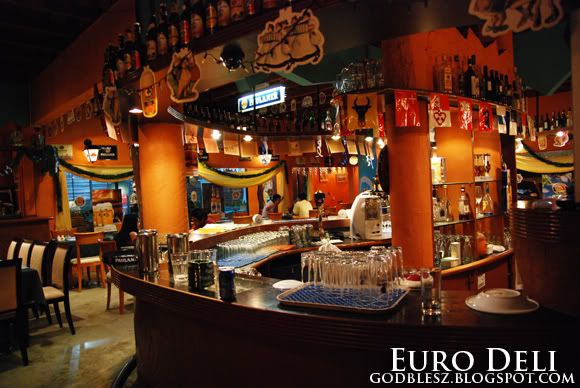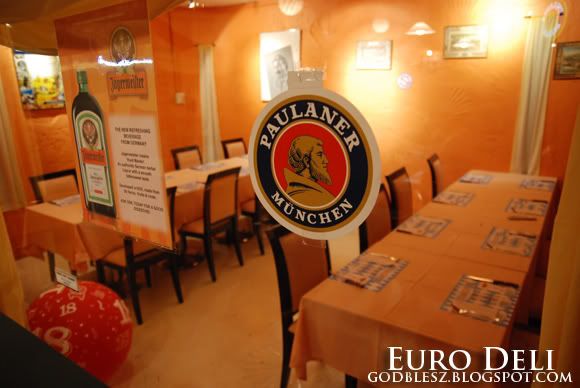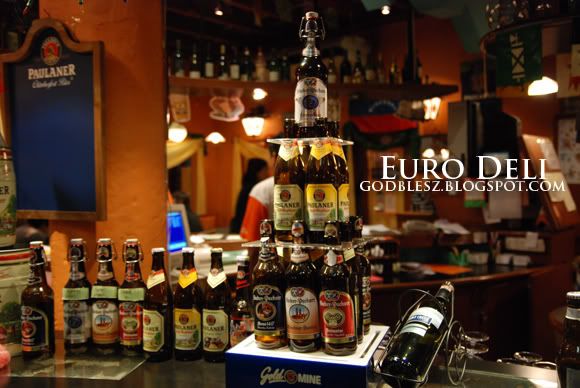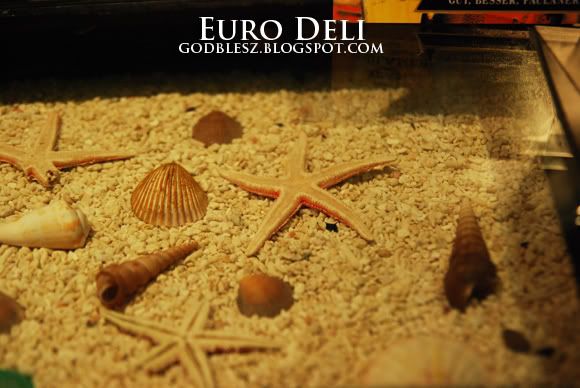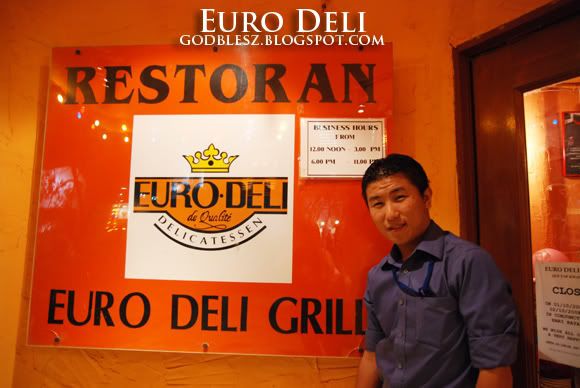 Their operating hours : 12pm - 3pm and 6pm-11pm
Thank you once again for celebrating for me honey muacks muacks muacks~~~
EURO DELI GRILL
No. 29, Jalan Yap Kwan Seng
50450 Kuala Lumpur
Tel: (603) 2162 6991
Fax: (603) 2166 5232
Website:
http://www.eurodeli.com.my/home.html