Sg Klah Hot Spring @ Sungkai(Part 1)
Last 2 weeks i went to Sg Klah Hot Spring which located at Sungkai, Perak with YuetLeng, SiewWeng, YingYing, PeiChin, WengChye, Ah Kai, Evon, DziYieng and Aeris...We separated to 2 cars, after having breakfast at Taman Melati then we departed...
So, after driving for one hour plus then we reach Sungkai...After the Sungkai's toll, followed the signboard and drove for another 15-20mins then we reached the place...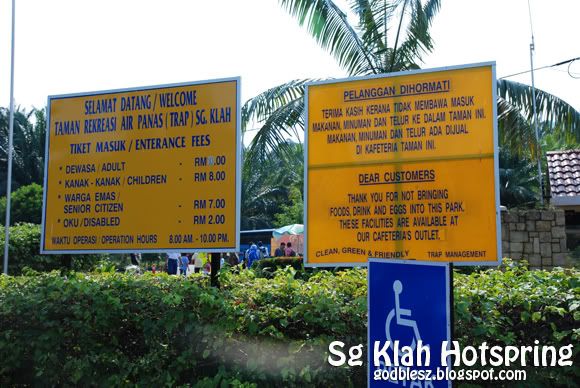 So after parking, we went to the counter to purchase ticket...Adult : RM10 / Children : RM8 / Senior Citizen : RM7 / Disabled : RM2...The operation hours : 8am - 10pm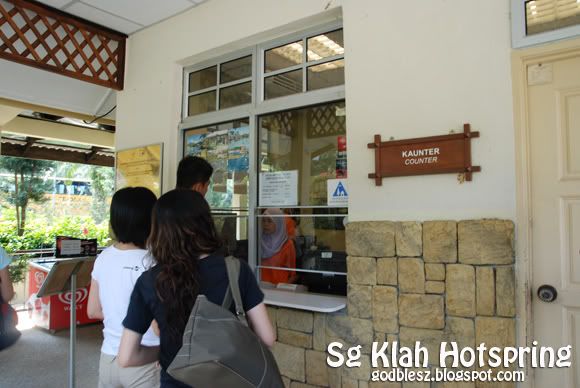 Yeah, the ticket counter...Queue here queue here to pay the entrance fee...
DziYieng, YingYing, Evon & Aries...They said faster faster, we want to go in already...
The staff will give you this to strap it on your wrist...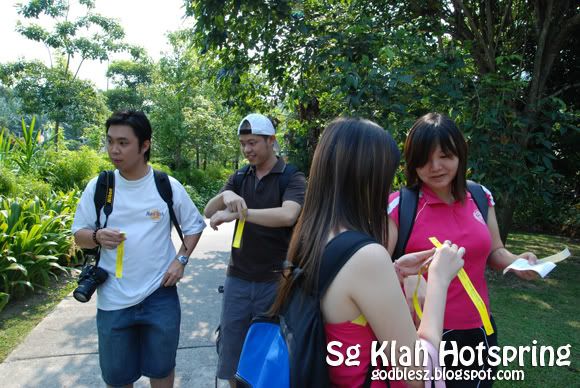 Everybody were busy to help each other for the straps...Hahaa...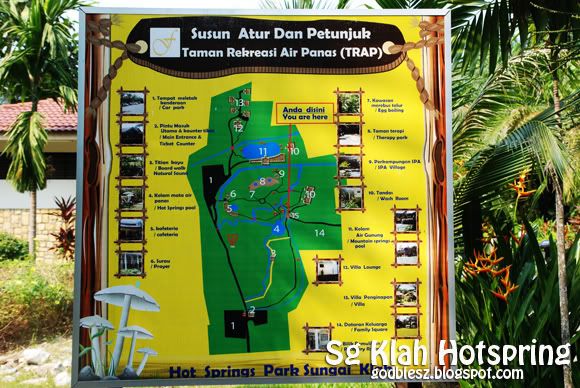 This is the map of the Hot Spring's place...You can see this everywhere so you don't have to worry that you will be lost...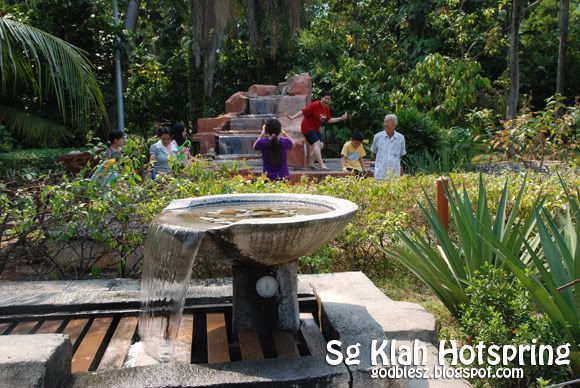 Keep walking then you will see these...Wah, try to touch the water, super hot...Ouch!!! :D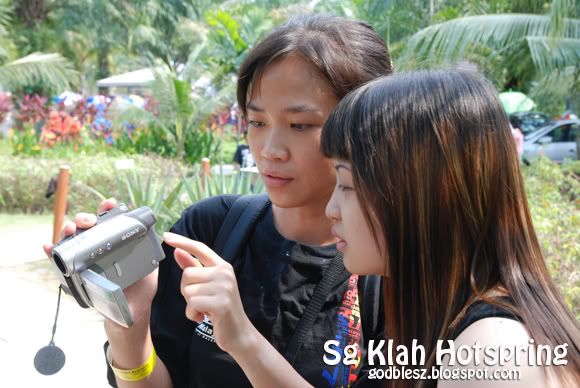 Emm...What were YuetLeng and Aries discussing leh?Got handsome boys ker?
Time to put on sun block before we started to have fun...Hahaa...Don't get sun burnt...Super pain!!!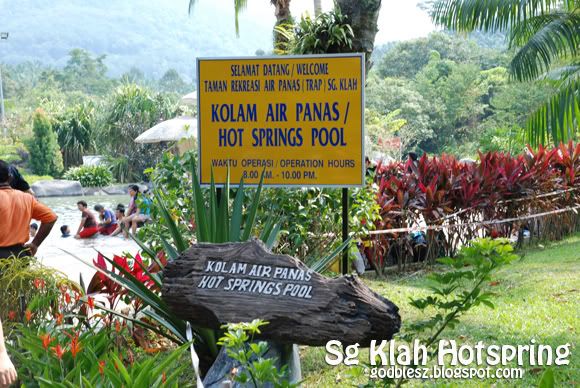 Yeah, the first pool that we can see was "Hot Springs Pool"...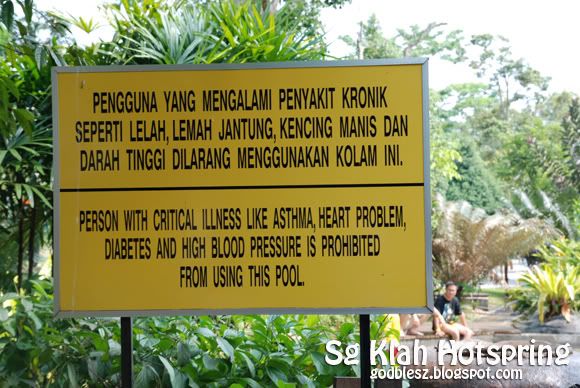 For your knowledge, there is a signboard there saying that those person with high blood pressure, asthma, diabetes & heart problem is prohibited to use the pool...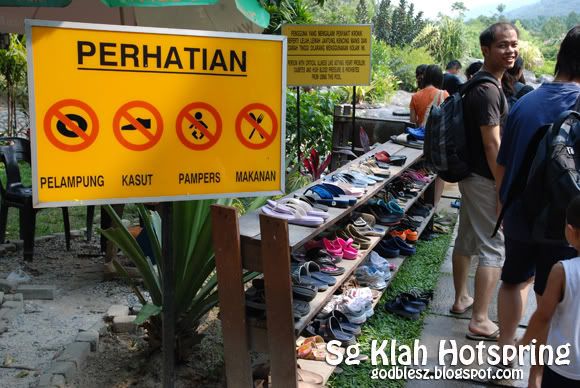 And we had to place our shoes on the racks provided...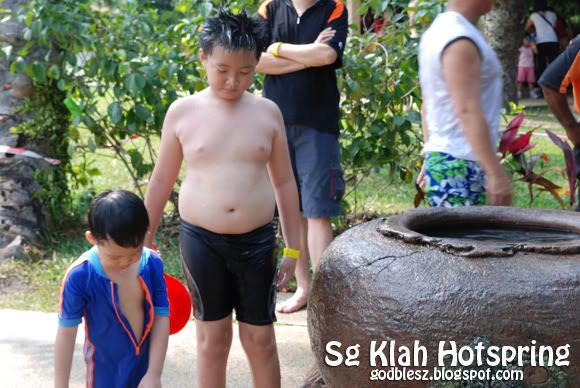 Then you have to use the water provided to clean your body before entering the pool...Hehe...But the water looks dirty huh...So we didn't do this....Opppsss...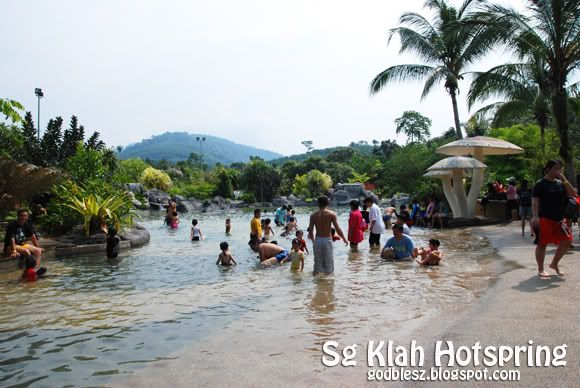 This is how the Hot Springs Pool looks like...The water is warm...Not really hot...
Then we had fun and i so wanna take some photos...So i take risk to bring my DSLR into the pool...(L-R)YingYing, WengChye, Ah Kai, Evon, Aries, SiewWeng & DziYieng...Look at WengChye's face expression...The hot water source is at the back...Hahaa...
This is the where the hot water come from...Super hot...Don't try to touch...Hahaa...
One last photo of the pool and then i put my DSLR back into my bag...Hehe....Scary....
Wah...So many photos that i want to post...If loading slow also don't care lah :P