Let's continue for the part 2 of our dinner at Wong Kok char chan Teng, Pavilion...
After discussing for 10 minutes and another 10 minutes and another 10 minutes, WengChye, PUiLim and me decided to have chicken steaks while YuetLeng ordered an ice cream toast and a herbal jelly dessert...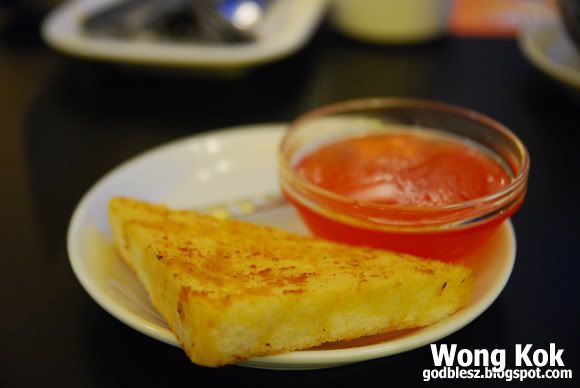 The garlic bread and a small cup of jelly...Comes with our steaks set...
Borsch soup...Also comes with our steaks set...
Traffic light drinks(Watermelon,Orange & Apple juice)...Again, also comes with our steaks set...Hahahaa....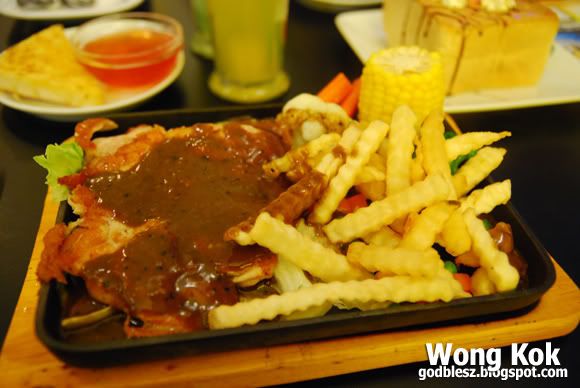 This is my chicken chop...Emm, the taste normal...No surprise...
YuetLeng ordered this - ice cream toast...
And this is YuetLeng's dessert...Herbal jelly with fungus...
Haha...I didn't bring tripod, so i placed my camera on the opposite table to take this before we start eating...
The taste of the food of Wong Kok Char Chan Teng is quite normal but their drinks is quite large in size...And the environment is actually quite relax to have a cup of drinks with a group of friends...So, if you have no idea of where to go after shopping for whole day in the Bukit Bintang area, maybe you can consider this place for a drinks or dinner...