Tg Tualang @ Perak (Part 2)
Hmmm...What we ate after the curry noodle and what is so suitable to eat under the super hot sun?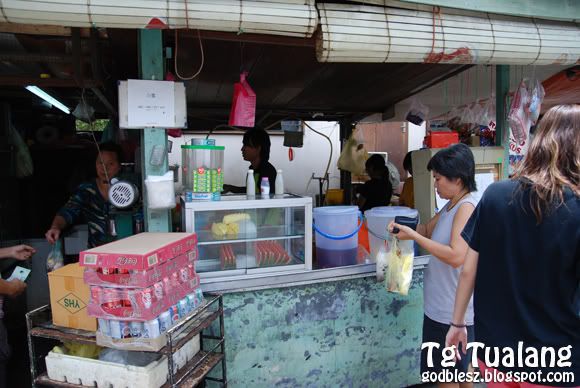 This is the place...A stall selling icy cool fruits juice, drinks and fruits...Fast fast sit down and order...Very hot leh...
WengChye ordered this..."Lin Ji Kang"...Hahaa....Look nice wor...
PuiLim ordered this...Ice Lime Juice with Jelly...But they have a special name for this in cantonese...Pronounce this way - "Man Tao Long Gat Zai"....Hahaha...Weng Chye and me also cannot understand why they called so...
I don't know what to order...So i tried this...ABC...Ice Kacang...
Then PuiLim ordered one fruit rojak for us to try....Taste quite nice....
Hahaa...Then we camwhore while we were enjoying the ice....
According to PuiLim this stall is quite popular in the town because of their tasty and cheap price...Next time if i visit there again i wanna eat eat eat again...Hahaa...
After that, we went back to PuiLim house to rest a while and then we planned to go to Setiawan to look for SiewWeng...Where will we go next?